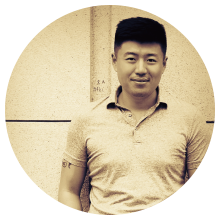 (C)陈立_艺术与设计杂志编辑
(W)王涛_三月设计MARCHDESIGN创始人
(C)chenli_dditor of ArtαDesign
(W)WangTao_initiator cheifαdesigner
of MARCHDESIGN
(C) Chen Li_ editor of Art&Design
(W) Wang Tao_ initiator&chief designer of MARCHDESIGN
C:What is the most thing you afraid to lose in your life?
W:Losing the ability of discovering beauty.
C:What is your hobby in your spare time?
W:Rich and simple are incompatible,climbing,traveling,sailboarding, photographing,skiing,kind of this,the common point is what I like is a game that I play to myself.
C:What is your inspiration from?
W:Discovery and staying alone and traveling.
C:What is the meaning of your LOGO,it dosen't seem like to have this word in Chinese.
W:Yes,indeed.Because of most of the designers are foreigner in my office but me.I made a combination of Chinese calligraphy and M.A.R.C.H into a Chinese word.First of all,the combination is the one and only,full of identification.Secondly,I wish to mix the two different culture together like the LOGO.
C:What is the meaning of design for you?
W:Some design comes into the domain of commerce and the others is not included.We should not treat in different sight.All of them need a casing of beauty.There are kinds of ways to fulfilled,and the way we called design.
C:Do you have some special signs in your design?
W:I always ignore the way I used to do,made it zero clearing,rebuild,recreative before I started a new programe. But we found that there is a common point in all of the programe.I don't know how to explain it,kind of "CHI" , a word means nature.This special word gives us some different content,not confined in details.It is completed, slow,veiled,changeful.That might be the way you called signs.
C:How about your life style?What is the most fortune in your life?
W:Absolutely work absolutely live.The character of designer is just one part in my life,it is my hobby,I think I am so lucky,and the support of family and friends makes me feel lucky as well.
C:生活中最害怕失去什么?
W:失去发现美的能力。
C:您的业余生活丰富吗?有什么爱好?
W:丰富和单纯同时存在,登山,远行,帆板,摄影,滑雪,爱好的品种很多,但都是自己跟自己玩的游戏。
C:是什么带给您源源不断的创作灵感?
W:观察与独处,还有旅行。
C:您工作室的LOGO是怎么解释的,好像中文没有这个字。
W:确实不是个中文,是因为工作室除了我之外的设计师都是洋人。我用中国书法的形式,和英文M.A.R.C.H.(三月)的内容组合了一个字。首先这个组合是独一无二的,有识别性,其次我希望两种文化能真的象这个LOGO一样,水乳交融。
C:对于您来讲,应该怎么理解设计?
W:有一些设计是在商业范畴的,而有些则不是,首先不该分开看待,它们都需要去创造美的感受。方式有很多,而这些方式,就是设计。
C:您的设计有某种符号化的表达方式吗?
W:在做一个新项目之前,我总会用一段时间去忘记过去的方式,清零,重新建立,重新创造。但现在看来,所有的作品有一种形式之上的共同特性,我不知道如何归纳,或许是"气"。这个中国特有的词汇,给了我们很多词汇以外的内容,它不再拘泥于某些细节,而是以一种整体的,缓缓的,含蓄的,多变的,并且有力量的方式让我们感受着,沟通着,或许这就是您说的符号。
C:您的生活方式是怎样的?您认为您最幸运的是什么?
W:绝对工作,绝对生活。设计师的身份只是我生活中的一部分,也是我现在的爱好所在,我认为这就很幸运,当然还有家人和朋友们,能拥有他们也是非常幸运的。
C:您对您所在的工作室有什么愿望或规划?
W:我希望它保持一种小规模能量的形式存在,有更强的设计师加入,有更专业的设计管理人参与,越来越强,而不是越来越大。设计不是生产线,做大只是在做企业,而不是做设计,现阶段,我们希望做好设计。